Give Your Child's Room A Complete Makeover With Themed Bunk Beds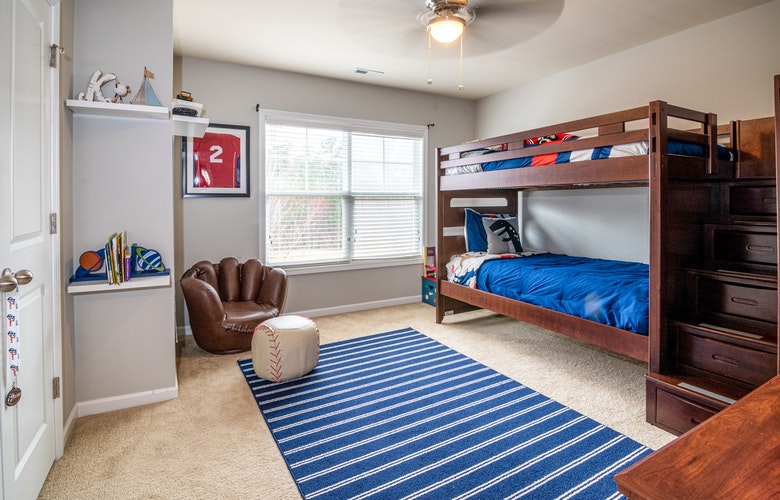 Decorating a child's bedroom with a unique theme increases the spark of creativity and innovation in them. Thus, for a uniquely designed bed, go for themed bunk beds instead of an ordinary bunk bed. Themed bunk bed is not only stylish and creative but also encourages your child to spend more time in their bedroom while playing, sleeping, and relaxing. They are available in multiple cartoons, sports, and several other characters to match your child's requirements. These beds can also complement your house décor. If you want to find multiple bed options, check for durable and sturdy models available at ToovKids.
Benefits of Themed Bunk Bed
Most kids spend a dedicated amount of time in their bedroom because it is also their playroom. Kids love playing with toys in their rooms with friends or alone. Themed bunk beds are a perfect piece of furniture that adds a spark to your kid's imagination when chosen for your child's room. They also become a part of your kid's game. Kids use these themed bunk beds more than just sleeping on them. Thus, it will enhance their mood by helping them enjoy the cartoon characters printed on these beds.
Theme bunk beds are not only good quality beds but also great options if you want to add creativity and fun to your child's life. Kids love them as they come with multiple creative patterns. These uniquely designed beds are available in the market at an affordable price to help you to bring happiness and joy to your kid's life. It also gives you a sense of excitement when you finish building up the themed bunk beds. They are a brilliant investment that prevents you from buying separate beds. Purchasing a themed bunk bed is the ultimate solution for saving space and money.
Most parents know how difficult it is to put their kids in a strict bedtime routine. However, if you buy a themed bunk bed, all your worries will start disappearing. Kids love to spend most of their time playing, reading, sleeping, and relaxing on their bed. Themed bunk beds stand apart from ordinarily looking standard bunk beds. They are more attractive looking beds and come with cartoon characters that your child loves. The multiple patterns will successfully grab your child's attention. These beds are not only cozy but are also super comfortable to enjoy sleeping. They encourage your child to follow the bedtime rules you have set for them.
If you buy a bunk bed, it will only provide comfort and safety. But, if you opt for a themed bunk bed, it will help maximize your kids' playfulness. This piece of furniture is made with sturdy material that supports kids playing and jumping on the bed by providing optimum safety. It helps to keep your kid secure and adds a theme to the child's bedroom. Whether your daughter wants a princess castle or son wanting a hideout fort. Themed bunk beds are available in multiple shapes and sizes that fit your child's wish. It keeps your child entertained to help them play all day long and sleep comfortably at night.
If you have a growing family, you may feel a little stressed while managing and sharing your house space. Most of the floor space is usually taken by toy boxes, study tables, wardrobes, drawers, etc. Now to fit a big bed in this limited space can be difficult. But, if you opt for a themed bunk bed, you might be able to save a lot of space. Buying a themed bunk bed or toddler beds for girls is a valuable decision when you are short of space to share. If you have more than one kid, then themed bunk beds are a perfect space-saver to conveniently accommodate two kids.
If your child's friend is coming to your house to stay, then having a themed bunk bed will provide the best solutions for them to sleep and play. Your child and his/her friend can share the same space comfortably rather than adjusting on the couch. You can also make the bottom bunk of such a bed into a play area when your kid is not sleeping. If you want to have an additional bed, you can opt for high-quality toddler car beds available at ToovKids.
Many people use neutral colors in their child's room. The idea behind keeping the interior simple is you can accessorize the room with decorative things. If you put a themed bunk bed into the minimalistic room, it will add a lot of life to your child's room by enhancing the bedroom's beauty. It will give your child's room a focal point and stops you from worrying about buying other accessories. Themed bunk beds are beautiful beds and available in various shapes and colors and beautiful graphics to make it look unique.
Happy Bedtime with Themed Bunk Beds
Most kids love sleeping on a themed bunk bed as they come with multiple engaging patterns that are fun and creative. They are perfect space-saving options if you are sharing a small space. They are made from robust material to keep your child safe and comfortable. If you want to look for the best bed collection, check out the ToovKids site.