Make Kid's Bedtime Fun & Playful With Benefitting Tipi Beds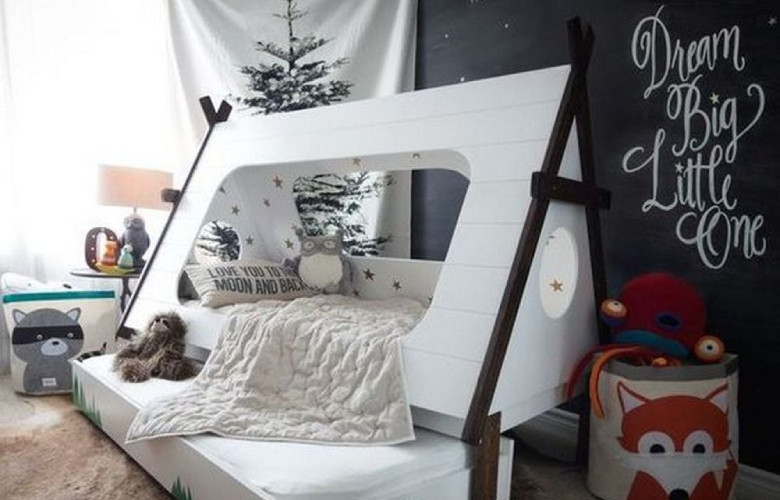 If you are looking for a perfect bed for your little adventurer, we suggest you get a versatile tipi bed. Tipi beds are shaped in the form of the tipi and have multiple benefits. These beds are available in various themes, shapes, and sizes to make your child happy and joyful. They also help kids to develop many skills. Tipi beds are better than ordinary looking beds as they can complement your home decor. 
Here are some outstanding benefits of buying tipi beds
Your child can do many things using a tipi bed apart from sleeping. Kids learn a lot during their childhood, and tipi beds allow them to use their imaginations while playing on these beds. With this bed, they can run wild with their fascinations in their minds. They can also use their tipi beds as a fort or a castle to play. It encourages your child to read several storybooks and enjoy adventures using their tipi beds. It motivates your son or daughter to imagine the power that can help develop their mind. Tipi beds are fantasy beds, pushing your child to utilize their brainpower to learn things on their own.
If you choose a tipi bed as your child's first bed, you are making the best choice for your child's comfort and safety. Tipi beds are open from four sides and allow your child to play comfortably alone or with their friends. They are super spacious beds that let your kids keep their toys on the bed while playing. If you are concerned about your child's safety, tipi beds are the best ones, giving your child high-end protection. Wondering how? Then, tipi beds are designed low to the ground to prevent injuries from falling. They are made from solid pine wood for durability and strength.
If your child has a tipi bed in his or her bedroom, it will help them socialize better. It encourages them to call their friends to your house and into their bedrooms to play multiple games using the tipi bed. Tipi beds are available in various shapes and can be customized when you buy them. You can get it as per your child's choice to invite their friends to play games according to their bed's theme. Having a tipi bed also enhances your child's socializing skills as it helps them learn how to deal with others. They can also use microscopes for fun while playing with their friends.
Tipi beds are perfect for all age-groups. You can get these beds for toddlers and teens. The design of the bed mostly stays the same for all age groups. Kids of all age-group love having a tipi bed. Whether teens or toddlers, everyone can enjoy playing, sleeping, and relaxing on a tipi bed. You can also find these beds conveniently available everywhere. However, we recommend getting a slightly bigger bed as it will last longer for your growing child. These beds are also easily replaceable and modified if your child needs some extra inches to sleep comfortably. Get the best quality toddler bed with storage at ToovKids.
Tipi beds are a perfect type of furniture that complements your child's bedroom. They look different and are super stylish than the ordinary-looking beds. It fulfills the requirement of your little one longing for a bed to have fun. The unique look of a bed encourages your child to spend more time in his or her bedroom. It enhances your child's mood that will not be possible with some boring type of beds. Tipi beds are unusual and stylish that look different than the beds most kids have. You can get a tipi bed to make your child feel special. If you need an additional bed, opt for toddler car beds with fancy-looking beds like tipi beds. 
Tipi beds are unique beds that can be used more than just sleeping. They are a versatile piece of furniture that your child can use to play, sit, relax, and have fun on the bed. They can be used as a seating area for kids when needed. You can utilize the bed space smartly and use the cushions and beddings in a way that you would be able to make a multi-purpose space. This space can be used by your kids to enjoy spending time with their siblings or friends. These unique and versatile beds can go well with your home décor and fit in any bedroom size.
When you get your tipi bed, you are most likely to get a simple frame. The tipi tent's simple look enhances your creative side to make a beautiful bed for your kids. You can add some lights on the middle beam making the bed look cozy yet attractive for your child. Tipi beds can be easily decorated, which allows you to add multiple things to the bed. You can also discuss ideas with your child while decorating this bed. However, tipi beds also look great on their own with their simple looks that complement the room décor. You can also dress up these beds the way you like.
Choosing a Tipi Beds
Most parents like to experiment while decorating their child's room. They want the best things for their child in which a bed is an essential item. If you want a safe and comfortable bed and have several benefits, you should opt for a tipi bed for your child. For more exciting bed options, take a glance at ToovKids.